Posted by admin in Travel | Comments Off on 5 Impractical Mistakes Travelers Make
5 Impractical Mistakes Travelers Make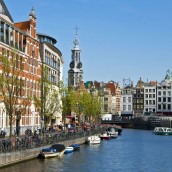 Travel can be one of the most beautiful experiences you'll ever have in your lifetime. It could also be one of the worst, though, especially if you keep committing one mistake after another. To spare you the trouble and expense, here are five of the most impractical travel mistakes from Elite Daily. Do your best to avoid them.
Mistakes to Avoid
Not checking the weather. You're so pleased with yourself because this time, you've managed to pack light. Only shirts and shorts and other essentials. Then the plane lands and you get hit by gusts of wind that seem more at home in the farthest reaches of the Tundra region. That's going to cut a portion out of your shopping funds. So next time, take a peek at the weather report before you pack for your trip.

Forgetting basic toiletries. You tell yourself the hotel will have a brush, soap, shampoo available. But sometimes they don't. Sometimes, they have the toothbrush and toothpaste but no shampoo and soap in sight. Spare yourself the mad rush to the nearest convenience store in the middle of the night just to get basic toiletries. Prepack them.

Not buying luggage space ahead of time. You know yourself best than anyone. So don't try to tell yourself you don't need that extra luggage space when you know full well you're going to go on a shopping spree the minute you hit the tourist shops. If you buy the luggage in advance, it won't cost you as much, compared to getting loaded with over baggage fees.

Not looking at the time and time zones close enough. Most travelers read 1:00 and assume it's 1 pm. Or have a flight scheduled at 12:01 and assume it's around noon. Always, always look at your flight schedule with careful eyes. That way, you won't miss your plane and spend on a new ticket.

Not getting help. If you're short on time, don't try to DIY your way through this. Hire the services of a Luxury Tours Agency in Windermere FL instead. You'll have a better time if you aren't stressed and bogged down by travel details so give reliable companies like Great Escapes Travel a shot. At Great Escapes Travel, our experienced travel agents are ready to make your family's vacation dreams a reality. We Can Help You Plan Your Ideal Trip!
Want a trip you won't soon forget? For inquiries and assistance, contact us at Great Escapes Travel today.
You can also like us on Facebook for more updates.