Posted by admin in Travel | Comments Off on 5 Expert Tips for Planning a Family Vacation
5 Expert Tips for Planning a Family Vacation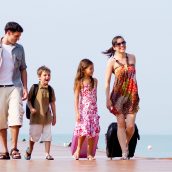 There are few things in the world that beat the fun and wonder of traveling with people you love and like. It's not always easy to plan for these trips, though, especially when you're doing it with family. Use the following suggestions to help you.
Time it right
While booking ahead is a good idea, don't buy one too early. Some say the best time to book is 47 days before the dates you want. Others say it's about 59 days. Given those numbers, it's best that you start checking out flights two months before the dates you want, Forbes says. However, if you're booking during the holidays, then do it as early as you can.
Picking out the day
Flying out on Fridays and Sundays tend to be the most expensive. You may want to pick out other days to lock in a bit of cost-savings. Tuesdays are often the best days to go for if you want the cheapest dates possible.
Shop for vacation packages
One of the best ways to save on costs is to choose vacation packages. These can help you save on flight tickets, tours, and accommodations. Packages can give you a good deal on all three so you have more shopping money to use on your trip.
Check the details
Be sure to read through the terms and conditions of the offer thoroughly. Know and understand the information inside and out. What's included in the cost? What services aren't covered? This is also a good time to check for hidden costs. Being clear on the offers can help you avoid paying extra.
Ask everyone
Make sure everybody's on board the plan. Before you pick an offer, ask everyone to vote on a list of vacation packages. Whichever option has the most votes will win. That's one way to include everybody in the planning process.
Make it easier to plan your trips. Follow these five tips.