Posted by admin in Travel | Comments Off on Rocky National Park: Ten Lake Hikes
Rocky National Park: Ten Lake Hikes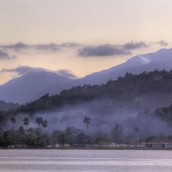 In Rocky Mountain National Park, hiking is the best way to explore the vastness of this natural wonder. From March until late October, you can hike the length and depth of the park. Of course, how far you want to go depends on the level of vigorous activity you and your party can handle. Regardless though, the park is a wonderland for hikers of all skill levels. The numerous trails encompass a variety of terrain and sights including 156 lakes!
156 Lakes
Rocky Mountain National Park boasts 156 lakes. While you cannot hike to all of them during your vacation, you can at least visit some of the more popular ones. Recommended are the following:
1. Bear Lake: No trip here is complete without a hike to this very popular lake. You can park and walk the short nature path around the lake or visit as part of the "Four-Lakes Loop Hike"
2. Nymph Lake: Ringed by pond lilies, this small gem has great views of Long's Peak
3. Dream Lake: In the summer, you can enjoy the many wildflowers surrounding it.
4. Emerald Lake: Lovely, scenic and subalpine
5. Haiyaha Lake: This lake is home to some of the park's oldest trees
6. Sprague Lake: Popular for families who come to stroll or fish
7. Mills Lake: A somewhat difficult Rocky Mountain National Park hiking trail, however it allows you to enjoy both the sights and fishing for rainbow or brook trout.
8. Poudre Lake: A beautiful lake, however much more difficult to climb due to its elevation.
9. Lake Bierstadt: This one provides excellent views of Hallet Peak and Notchtop Mountain
10.  Gem Lake: You can take a short steep hike to a gem of a lake with sandy shores
Rocky Mountain National Park Hiking
No matter what type of trail, Rocky Mountain National Park has it. From the easiest to the most difficult, you will find it here. From scenic mountains to alpine lakes, people come from across the continent to enjoy what Rocky Mountain Park hiking has to offer them.