Posted by admin in Travel | Comments Off on Etiquette 101 on Board Your Luxury Yacht Charter
Etiquette 101 on Board Your Luxury Yacht Charter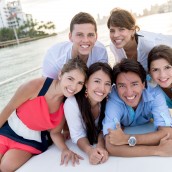 There's something fundamentally beautiful about sitting in the quiet, with nothing but the sea and the sky around for miles, watching the stars come out. That's only one of the best moments you can experience when you go sailing on a luxury yacht charter around popular USVI spots. But before you book that trip and pack your bags, you might want to make sure you get a crash course on Etiquette 101 before you come on board:
Treat Your Crew with Respect
That's first and foremost on the list. They aren't your personal servants so don't treat them like one. Yes, they make sure you have an excellent time aboard. From stocking on your favorite snacks, sodas, wine, right down to the toppings you want in your pizza, they look after your needs while you're out on the water. Often, though, your crew are smart, dedicated professionals who love sailing, the area, and life on the water. They'll know plenty about the area so if you've been dying to know about the islands and area, you can't find anyone better to answer your questions.
Bring Along a Nanny or Ask for One
Planning on taking your kids with you? Don't expect the crew to act as baby-sitters, says the Tatler. Sure, a time or two is good but don't abuse their hospitality and willingness to help you out. It's your job to bring a long a nanny on board. You can also ask the crew to provide you with one. Just be prepared for the added cost that service will bring you. However, the peace of mind that comes from knowing someone is looking after your kids while you work on your tan out on the deck is the only consolation and reason you need.
Pay Attention to the Safety Briefing
It'll only take a few minutes of your time. So listen. You might be familiar with a few of the things you heard but it's always better to know more. That way, you'll know where you can get the lifejackets, where the fire extinguishers are located, the safety floats, etc. If anything happens, you can act quickly and decisively instead of wasting time asking what to do or where to get what.
So before you go on a charter to the U.S. Virgin Islands, make sure you know a thing or two about how to act on board. That's one way to get your vacation off to a great start.